Nursing School Admission Essay – Vital Part of Your Application
Getting admitted to a nursing school might be quite difficult due to the high competition. With a limited number of available spots and many eligible applicants, you must stand out to get in. Therefore, the nursing school admission essay is critical to the application process.
Writing an entrance essay allows students to go beyond their academic achievements and give a more personal and broad image of themselves as potential nurses. It enables them to express their enthusiasm, the reasons they chose the field, and the particular experiences that impacted their choice to pursue a career in the medical industry.
What Should Be in an Entrance Essay?
An essay for nursing school application is a great space to showcase one's personality, character, and communication skills. It should reveal your capacity to connect with people, articulate their views and experiences, and communicate clearly and effectively.
Secondly, it must highlight your professional interest and the knowledge of the chosen program's abilities and opportunities. Thus, you may explain your motivations and goals in pursuing a particular specialty more clearly, helping the committee understand your focus and potential contribution to the field.
Thirdly, writing a nursing school essay provides a great chance to address any gaps in your academic career. There might have been different obstacles on your way – from illnesses to burning out. Showing how you overcame them will prove your resilience and growth. This will even strengthen your application more than any yet another academic achievement.
And lastly, your essay nursing school will enable the committee to evaluate your ability to articulate thoughts coherently, convey ideas, and adhere to writing & formatting standards. All of these imply your capacity to withstand the demanding requirements of nursing education.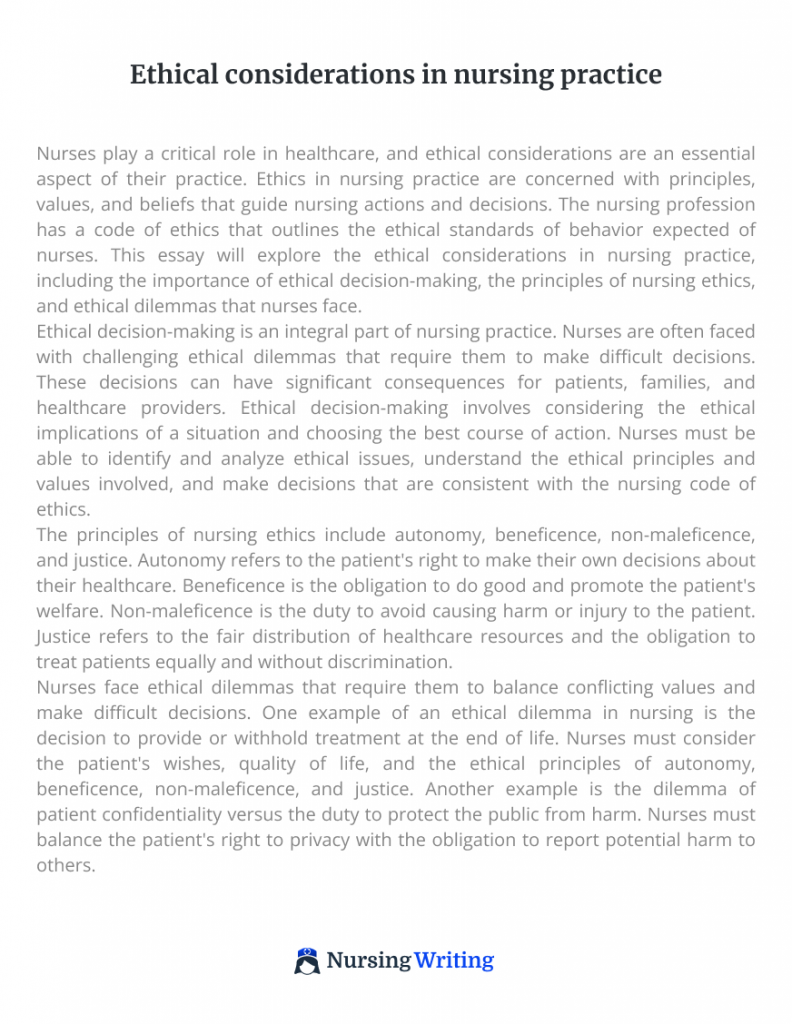 The Role of Essays for Nursing School in the Admission Process
In the competitive world of nursing school admissions, nursing school entrance essay plays a crucial role in the decision-making process. Its primary goal is to present the candidate in the best light to the committees and convince them of the perfect match of the applicant with their chosen program.
Throughout the admissions process, essays for nursing school are evaluated based on numerous factors that help determine an applicant's eligibility for the program. While each institution's assessment procedure may be different, the following factors are typically taken into account:
Content and relevance: Relevant information that showcases the applicant's motivations, experiences, and goals in pursuing nursing is to be showcased.
Passion for the field: The officials evaluate if the personal essay for nursing school demonstrates a solid dedication to the field and a sincere desire to improve the patients' lives and the healthcare system.
Alignment with program values: They seek candidates who can express how they uphold their principles and who can demonstrate comprehension of them.
Personal reflection: The committee considers the applicant's capacity to evaluate their experiences critically and communicate how those experiences have influenced their decision to pursue nursing in their essays.
Communication skills: The ability of applicants to clearly and concisely express their views, ideas, and experiences via their nursing school essays is assessed by the admissions committee.
Problem-solving abilities: They need to see the evidence of analytical thinking and the ability to evaluate situations and propose appropriate solutions.
Overall impression: That is where a lasting impression matters. All of the factors mentioned above influence it and should be executed in the best way possible.
Yet, it's essential to understand that the nursing school application essay grading is only one part of the entire admissions process. The committees also consider academic performance, letters of reference, interviews, and other application materials when determining whether a candidate qualifies to be accepted.